First: A few Mooseman Pictures
In all of my run pictures at Mooseman I have that same worried expression. I'm pretty sure I was wondering, as I often do during the run portion of triathlon, 1. whether I will actually make it to the end, and 2. What was I thinking when I signed up for Ironman????
But onward.
Last weekend I drove myself to Lake Placid, NY to train with a few of my Nor'Easter Team triathlon friends. The trip took close to six hours including stops, but I have to admit I didn't mind the trip in either direction. I listened to a book on tape (Jane Green's
Second Chance
--somewhat cheesy middle-aged woman lit). I identified with several characters in the book, who were all women of 39 going through various mid-life crises. Loved it. Identifying with characters as they evolve and figure out their life transitions is satisfying.
This is me at the end of the race. I like this picture because I look like I have long legs, which let me tell you, I don't.
On to the weekend!
Ange and I shared a room.
We had like 20 bags of shit between us, plus our bikes, plus I don't know what. It was pretty amazing. We even brought a coffee maker. You can't risk such things as not having coffee when you need it.
On our first night we went out for a run. I dying to run because I had been basically resting since the Half Ironman last Sunday. We went out with a group that I thought would be too fast for me, but the group swore they were going easy, and so I went too. Turns out they weren't lying. One thing I'm learning is that the best athletes really do work out at all different speeds and intensities. You can't just look at someone's race times and determine whether you could train with them, or not. Often people with slower times will push you, and people with faster times will go surprisingly slow. I know this observation is rather obvious, but I have always been very black and white about training. You are better than me, or you are not. I will hold you back, or I will be frustrated by having to move too slowly. Sometimes these things are true; sometimes they are not. But you can't know by assumption.
New friends. This run was the beginning of it. Have I mentioned I love new friends? Several people--actually more than several--turned out to be remarkably funny and cool. Being remarkably funny and cool myself, I am immediately able to identify such characteristics in others. That night we went out to a pub for dinner and a beer. I love beer almost as much as I love making new friends. The combination of the two? Perfecto.
The next morning we got up and -- slugged.
Wow. I haven't done that in a really long time. I felt as if we should be doing something, and after a longish diner breakfast and way too much coffee, I became genuinely fidgety. Finally we we packed up and went for a ride. It was slow and comfortable, and only lasted for 20 miles. Still, it was something.
And then we went swimming! Yeah! We swam the two laps of the LP course. It was great the first lap. Then I got bored. That's a long time to just, well, swim. I finished her up in like 1:05. I kind of dislike myself for allowing myself for to get bored, lose focus, and loaf. The lake is awesome, though. The area is just beautiful.
Then Ange and I went for a brisk run around the lake. Ahhhhh.....
Dinner, chit-chat with good friends, bed.
_______________
I slept well.
I got up. We made coffee. We drank coffee. We ran around like crazy women getting ready to bike. and then.
I was ready--ready to bike the course.
The plan was to take the first loop slow, ride with the group and not do anything stupid.
This is what we did. The first loop we took really, really, really, really slow. sloooooooooooow.
It was cool, so I was inclined not to drink, but I forced myself to. I also forced myself to eat. People looked at me funny when I took my first gel in at 35 minutes, but I really wanted to test out my race day nutrition--and this was my big chance. I am happy to say--I officially have my bike nutrtion plan. It involves lots of PowerBar Endurance (5.5 bottles), water, lots of salt, lots of gel (one every 40 min or so), one yummy Lara Bar, one Peanut Brittle Clif Bar, and one bag of pretzel cracker- peanut butter sandwichs. My stomach is pretty tough; I think I'll be able to handle the bars. Plus, I plan to be conservative on the bike. I want a good run.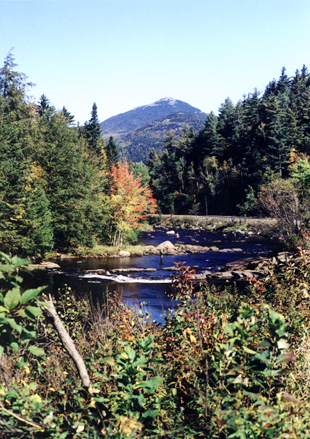 I rode with Ange the whole way. Sometimes we were close to the group, sometimes ahead. It was solid. It felt good. It wasn't as hard as I had feared it would be. I love riding with Ange. Hell, I just love Ange!
After the ride Ange and I went on another brisk run. Too brisk, in fact! We were both SOOO hungry and so ready for the work to be over that we
hammered
. Ange's heartrate monitor was beeping out of control because we were way above what we should've been for heart rate. (I don't have mine set to beep--or mine would have sung right out too). We ran about 6 and then called it a day, struggling up that last hill coming in town. Wahoo!
The next morning was my daughter's 4th b-day, so I got up super early and got my long run in starting at 5 a.m. so I could leave Lake Placid by 7 and be back home by noon. God it's beautiful out there. You don't notice it so much when you're cruising along on your bike and riding with friends, but when alone, running in the early, cool morning, it's just--amazing. What a great run. (Amazing except for the mother of a hill coming into town: that SUCKS. Can't wait to do that on race day 2x.... That will be wicked fun.)
This week has been CRAZY. It's the last week of school, it's a big training week, it's my daughter's b-day party tomorrow. Jordan (oldest daughter and chef extraordinaire at age 7) will help me make the cake. We're making a castle cake-- (b/c it's a princess party, of course--4-year-old girl = princess obsession.) I'll post a picture of it when we're done.
I loved camp. I love my tri friends (and those tri friends not at camp--and my other friends, too!). I love training. I love that school is ending and I'm not teaching next year--finally. I love that things are changing--and that these changes are going to be good in the end. I love Andy. I love my kids. Those of you with kids--you now how much.
I feel thankful today.